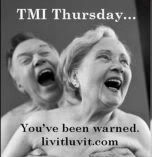 Reading TMI's are bad in class...especially if your class is watching a movie and your prof is blind. (not kidding)
BUT yes- check out the site http://www.livitluvit.com to laugh the rest of the evening.
Now to share a TMI story...
One of my great friends in high school had a boyfriend who was also in Band with her. We had gone to Florida to have a concert at Disney World. Well on the way down from northern Indiana. Well, this was before we sat with same sex. (So, she might be the reason why they changed the rules so that we had to sit "same-sex" on the bus!
Well, she and her boyfriend were....well being promiscuous and the bus stated to, well, SMELL... and there was this someone's little sister that was sitting near them and was like. Why does it smell like FISH?! hahaha So that is my lame memory of a TMI. I'll have to work on finding and seeking out more-
Well, have a great day. it's now time to research and figure out what I want to write about for my ENG 393 class paper. I think I'll write about NCLB and how our man "Mitch" is going to screw up the teaching system if he does pass the law that he is in favor for.